Alice Rowland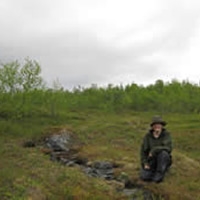 Department of Biosciences Durham University Stockton Road Durham DH1 3LE
Supervisor(s):

Professor M Knight and Dr H Knight
I am a PhD student at Durham University investigating the interaction of the clock and freezing response in arctic and alpine species from across the plant kingdom.
My research interests focus on how plants interact, respond and adapt to their environment, in particular in response to extreme environmental conditions, using a wide array of techniques from different disciplines.
I graduated from Durham University in 2011 with a BSc (Hons) in Biology with industrial placement and again in 2013, with an MSc (Research). This MSc, supervised by Dr Robert Baxter and Professor Marc Knight, explored the effects of hybridisation, small scale genetic selection and freezing shock on forest patch structure in sub-Arctic Northern Sweden.
From 2009 to 2010 I undertook an industrial placement at the Royal Botanic Gardens Kew in the Micromorphology Department under Dr. Paula Rudall. Whilst here I studied stomatal development in Ginkgo biloba and collaborated on plant structural colour projects with Beverly Glover and the Department of Physics at the University of Cambridge.
Project title: Exploiting arctic germplasm to breed crops with enhanced freezing tolerance
Freezing events are experienced by all plants in the temperate and polar zones and in some parts of the tropical zones. Constitutive freezing tolerance is typically costly to the plant, resulting in various symptoms including reduced growth and seed yields. Previously freezing events have been mostly predictable, occurring at certain times of year. Hence in the majority of plants freezing tolerance is induced when predicted to be required, by sensing environmental stimuli such as daylength and temperature changes.
Climate change is resulting in more chaotic climate patterns, reducing the predictability of freezing events, increasing the severity of freezing events and causing freezing in previously frost free areas of the world. This can wreak havoc on crops and native plants, which are incapable of predicting and adequately responding to these events and has already resulted in the loss of numerous crops globally.
My project will investigate polymorphisms in genes involved with freezing in Arctic plant species (which have very high freezing tolerance), compare these to more temperate species and test their effect on freezing tolerance with the aim of determining the potential of these alleles as targets for crop breeding.
Other Activities
I am a STEM ambassador for science and enjoy engaging with members of the public about various scientific topics.
Publications
Vignolini, S, Rudall, P., Rowland, A., Reed, A., Moyuroud, E., Faden, R., Baumberg, J., Glover, B., Steiner, U., 2012. Pointillist structural color in Pollia fruit. PNAS 109:15712-15715
Rudall, P., Rowland, A., Bateman, R., 2012. Ultrastructure of stomatal development in Ginkgo biloba. International Journal of Plant Sciences. 173:849-860
Vignolini, S, Thomas, M., Kolle, M., Wenzel, T., Rowland, A., Rudall, P., Baumberg, J., Glover, B., Steiner, U., 2012. Directional scattering from the glossy flower of ranunculus: How the buttercup lights up your chin. Journal of the Royal Society Interface.9: 1-7