Alison Howell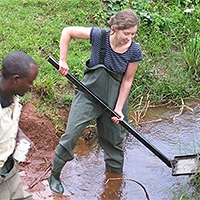 Veterinary Parasitology Liverpool Science Park IC2 Building 146 Brownlow Hill Liverpool L3 5RF
Supervisor(s):
Professor Diana Williams, Professor Matthew Baylis and Dr Gina Pinchbeck
After graduating from the University of Liverpool, I worked as a veterinary surgeon for several years, before undertaking an MSc in 'Biology and Control of Parasites and Disease Vectors' at Liverpool School of Tropical Medicine. My research project involved field work in Uganda to investigate the epidemiology of Fasciola (liver fluke) species there.
Project title: Association between bovine tuberculosis and Fasciola hepatica in dairy cattle
I'm currently studying for a PhD in Veterinary Parasitology at the University of Liverpool. I am interested in the epidemiology and diagnosis of parasites and infectious disease.
My project, funded by BBSRC under their 'Food Security' remit, investigates whether infection with liver fluke is associated with a failure of the skin test for bovine tuberculosis (bTB). This involves testing individual cows from commercial UK dairy herds for fluke and bTB using a variety of diagnostic tests. It is hoped that the results of this work will help to control bTB more effectively.
Publications
AK Howell, L Mugisha, J Davies, EJ LaCourse, J Claridge, DJL Williams, L Kelly-Hope, M Betson, NB Kabatereine and JR Stothard (2012). 'Bovine fasciolosis at increasing altitudes: Parasitological and malacological sampling on the slopes of Mount Elgon, Uganda'. Parasites and Vectors, 5:196
Where did I get my PIPs
PIPS Internship Organisation Name
Field Epidemiology Service, Public Health England
Location
Liverpool
When deciding on your internship, what did you want to experience and what did you hope to gain from that experience?
I wanted to see what working at FES entailed and whether it might be a suitable career option. I also wanted to learn about analysis methods.
Did you get the experience you were expecting and did you achieve the personal development you had hoped to make?
Yes- I was part of the team and got the most out of the experience.
Did you discover anything about yourself or make any achievements that you were not expecting?
I discovered that although the work is very interesting, I don't want a job that involves too much office work. I learned a lot about analysis and the use of computer programs that is directly useful for my PhD and gained from the expertise in FES that is lacking (or not accessible) in the University. I also received a lot of career advice from various people in different roles at FES.
Has the internship made you feel differently about potential career options and has it helped to put the skills from research into a broader context?
It has made me aware of a wide variety of future options within PHE which I was unaware of, also to think more carefully about the environment in which I want to work.
Additional comments
Overall it was very worthwhile and I enjoyed it.