Ewan Young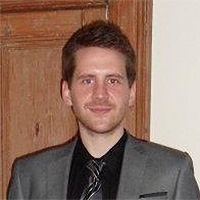 Institute of Integrative Biology Biosciences Building University of Liverpool Crown Street Liverpool L69 7ZB
Supervisor(s):
Professor Mark X Caddick and Dr Bahram Ebrahimi
I attained a BSc Hons Degree in Biological Sciences at Heriot-Watt University. I carried out a project examining the importance of a triply phosphorylated region located on a Saccharomyces cerevisiae gene named phosphoribosylpyrophosphate synthetase 5 (PRS5). PRS5's homologue in humans is responsible for the disease Marie-Charcot-Tooth and has been implicated in neurodegenerative disorders. My choice in undergraduate degree allowed for flexibility in which subjects I studied and I focused on molecular biology and genomics as these areas are of particular interest to me.
Project title: The Unfolded Protein Response and RNA Stability
My research involves examining the rate of degradation of mRNA transcripts encoding secreted proteins when the Unfolded Protein Response (UPR) has been induced within the model organism Aspergillus nidulans. The UPR is responsible for maintaining endoplasmic reticulum homeostasis and as such has been identified as providing a significant bottleneck for heterologous protein production. Aspergillus spp. are regularly utilized in industry for the production of both heterologous and homologous proteins. However, heterologous protein production and secretion is significantly lower than homologous. A report showed that the sale of proteins derived through fermentation is a $5 billion a year industry with Aspergillus spp. being responsible for approximately 50% of this. By identifying the factors responsible for the degradation of transcripts encoding secreted proteins I hope to be able to increase both homologous and heterologous protein production. To achieve this I will be creating various UPR knockout mutants to be examined and crossed with several different strains which are deficient in specific aspects of mRNA degradation. This will allow for the identification of genes which could be manipulated to increase yield.


Where did I get my PIPs
PIPS Internship Organisation Name
Croda
Location
Ditton, Widnes
When deciding on your internship, what did you want to experience and what did you hope to gain from that experience?
I wanted to see what the differences were between working in industry and academia. I wanted to gain insight into where I wanted to go with my career.
Did you get the experience you were expecting and did you achieve the personal development you had hoped to make?
Indeed. I saw a large difference between academia and industry and felt I fitted in with the working environment well and learned how to work as a part of a team as opposed to focusing solely on my own research.
Did you discover anything about yourself or make any achievements that you were not expecting?
Yes. I work well with people and do well within a business orientated atmosphere.
Additional comments
I did very much enjoy the placement and can see its value as it gives a different perspective from the academic environment.