Kate Earl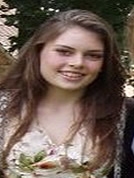 Room 5.383A Institute of Ageing and Chronic Disease University of Liverpool William Henry Duncan Building 6 West Derby Street Liverpool L7 8TX
Supervisor(s):

Professor Anne McArdle
I graduated from the University of Nottingham in 2011 with a BSc (Hons) in Nutritional Biochemistry. During my undergraduate degree, I got involved with a BBSRC-funded summer research programme, working with researchers in the University of Nottingham's Division of Nutritional Sciences looking at the effects of polyunsaturated fatty acids on atherosclerosis (a potentially serious condition where arteries become clogged up with fatty substances like cholesterol). During my final year project at Nottingham, I assessed the effects of diet prior to and during pregnancy on the lipid composition of the maternal and foetal liver.
I continued within the field of nutrition, moving to the University of Glasgow in 2011 and completing an MSc in Human Nutrition specialising in Clinical Nutrition. I completed a research project looking at the gut micro flora characteristics of children with coeliac disease in the second part of my masters.
I have now started a BBSRC-funded PhD at the University of Liverpool in Musculoskeletal Biology, investigating the effect of the modulation of cytokines on both physiological and psychological fatigue.
A number of factors have been identified which modulate the ability of skeletal muscle to generate force. An increase in pro-inflammatory cytokines, evident in a number of instances, particularly during ageing, has been proposed to modulate muscle function. In muscle, studies have shown a cascade of events follow a rise in extracellular cytokines of which increased mitochondrial ROS generation and a subsequent increased production of cytokines by muscle is proposed to be key.
Despite these advances, the mechanisms by which this results in altered muscle contraction and increased fatigue remain largely uncertain. Muscle contraction and fatigue is a multidimensional concept which can be defined through both physical and psychological concepts, thus there is some evidence that a systemic increased inflammation can increase both central and peripheral fatigue. The aim of this study is to determine the mechanisms underlying inflammation-induced modulation of muscle function and fatigue. This information is critical to the development of interventions which modulate muscle contractions and fatigue in instances where chronic inflammation is evident, most notably during ageing but in other conditions of unknown aetiology, including Chronic Fatigue Syndrome. The project will use a number of different research models from cell culture through to human studies.
Thus, research involves investigating the effect of pro-inflammatory cytokines including TNF-α on changes in inflammatory profile of muscle, ROS generation and cell atrophy in C2C12 myotubes and muscle function in models of inflammation. These findings will inform potential interventions, but polyphenols and their derivatives are known to modulate inflammatory processes and so, for example, an intervention study with polyphenols would be appropriate to assess the potential role of these naturally occurring compounds in modulation of muscle function and both central and peripheral fatigue.


Where did I get my PIPs
During the first year of my PhD I completed a 5 week internship with the NNEdPro (Need for Nutrition Education Programme) at the MRC-HNR centre in Cambridge as part of my BBSRC DTP PIPS.
PIPS Internship Organisation Name
NNEdPro
Location
Cambridge
When deciding on your internship, what did you want to experience and what did you hope to gain from that experience?
I knew I wanted to complete part of my PIPS at NNEdPro when we were first told about them. I have had a keen interest in the work completed by NNEdPro and have often considered such an organisation as a potential place of work post-PhD. I thought it would be therefore worthwhile to gain work experience here. I wanted to complete an internship within the field of nutrition as it is my main speciality. I also wanted to gain experience outside of the laboratory setting as I have not had any yet. I hoped to improve my communication skills and ability to use my research skills outside of academia. I wanted to build my confidence and knowledge outside of a academic setting.
Did you get the experience you were expecting and did you achieve the personal development you had hoped to make?
My experience was extremely positive and beneficial and I thoroughly enjoyed myself. . During my 5 weeks at NNEdPro I was able to get involved in many different aspects of NNEdPro work which allowed me to achieve the majority of my personal aims. I assisted the NNEdPro Managing Coordinator/Analyst with the literature search for a new and upcoming NNEdPro education project on hydration. I was also invited to contribute to a number of progress meetings including the senior NNEdPro advisory panel meeting. This involved discussions relating to the overall direction of the programme. I was able to work with the Nutrition and Vascular Function team at HNR on a clinical trial which was operating at the time. I assisted with elements of trial including volunteer visits and gained first-hand knowledge about the vascular function measures used in the facility. Further work included editing papers due to be published and aiding scientists in choosing how they are going to format their research into papers. I arranged meetings with many other staff at HNR, including senior scientists, research assistants, communication advisors and other PhD students to discuss with them their own areas of research and careers. I am very eager to learn about all areas of science and my internship with NNEdPro certainly allowed me to do this.
Did you discover anything about yourself or make any achievements that you were not expecting?
I discovered that I need a job which is quite diverse and challenging to fuel my ability to work. I did not expect the work I completed during my internship to be so well received.
Has the internship made you feel differently about potential career options and has it helped to put the skills from research into a broader context?
I already knew that there were many different potential career options post PhD, however finding out the exact type of role I would have in a job was very beneficial. Being able to gain hands on and direct experience was really good.