Lisa Luu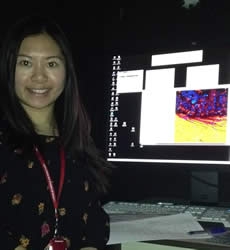 Infection Biology First Floor IC2 Building 146 Brownlow Hill Liverpool L3 5RF
Supervisor(s):
Dr Janine Coombes and Professor Jonathan Wastling
I graduated with a BSc in Tropical Disease Biology. My undergraduate honours project investigated the impact of GFP insertion into the abdomen of the malarial vector, Anopheles spp, on insect behaviour and livelihood. As part of this degree, I also travelled to Kibale forest in Uganda to gain some relevant fieldwork experience.

Following on from my undergraduate degree, I undertook an MSc in Veterinary Parasitology (BBSRC funded) and completed a research project investigating the epidemiology of Eimeria in Ethiopian poultry populations. I spent a month in Ethiopia and participated in setting up a laboratory for the BBSRC-funded chicken health for development project and also took part in field sampling in Ethiopian villages.
Since then I have gained valuable experience in an NHS genetic diagnostic laboratory, using molecular techniques such as PCR and microarray comparative genome hybridisation to identify gene polymorphisms relevant to clinical diseases, before returning to research.
My main areas of research interest are parasitology, food security and the zoonotic aspect of human health.
Project title: A new generation of in vitro models for enteric infections of food producing animals
Enteric infections have significant impacts on the morbidity and mortality of many food-producing animals. Current in vitro culture-based methods of studying host and pathogen interactions are limiting the progression of our understanding of infections as they do not fully represent the complex interactions occurring between host intestinal cells and pathogens. Animal based models that are used for in vivo studies involve the use of whole live animals, which is associated with obvious ethical issues and are often costly. There is a need to develop a good in vitro model to replace the use of animals to study enteric pathogens.
Organoid culture is an emerging technology with the capacity to be developed into a 3D in vitro model able to mimic the complex host immune secretory responses by different epithelial cell lineages to pathogens in the context of relevant host-species interactions.
By collaborating with the University of East Anglia, organoid culture techniques will be applied to develop porcine and bovine intestinal models of disease. Relevant bacteria, parasites and viruses will be used to validate this model using proteomic, transcriptomic and imaging approaches. These can also be used to develop human models of infection to gain a better understanding of human diseases.
Publications
Luu, L., Bettridge, J., Christley, R. M., Melese, K., Blake, D., Dessie, T., et al. (2013). Prevalence and molecular characterisation of Eimeria species in Ethiopian village chickens. BMC Veterinary Research, 9(1), 208. doi:10.1186/1746-6148-9-208
Where did I get my PIPs
PIPS Internship Organisation Name
NWC AHSN
Location
Daresbury Science Park
When deciding on your internship, what did you want to experience and what did you hope to gain from that experience?
My overall aim was to experience non-laboratory based scientific work. I was searching for either field work or work within a veterinary or human health organisation. I hoped to gain a better understand of the overview of how laboratory based work can be applied in real life healthcare situations. I also hoped to be exposed to a range of different careers within these areas that I was not previously aware of.
Did you get the experience you were expecting and did you achieve the personal development you had hoped to make?
Yes. Working with the NWC AHSN has allowed me to observe the real life development of products and prototypes developed in laboratories and local SMEs into tangible and commercialised products which can benefit the local population and beyond. Additionally, I now have a much better understanding of the funding landscape within the UK, inclusive of those relevant to myself as an academic as well as those relevant to private companies and health care organisations.
Has the internship made you feel differently about potential career options and has it helped to put the skills from research into a broader context?
It has shown me various careers outside of academia that I had previously not considered, however I've not changed the direction of where I aim to be in the next 10 years. The placement has certainly shown me how my skills can be applicable in a broader context, as is evident in the major outputs achieved upon the completion of the placement.