Rob Thompson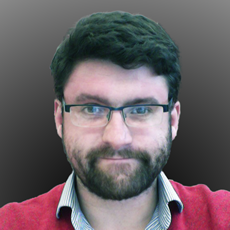 Culture Lab Newcastle University Grand Assembly Rooms King's Walk Newcastle-upon-Tyne NE1 7RU
Supervisor(s):
Professor Ilias Kyriazakis and Dr Thomas Plötz
I graduated from the School of Computing Science at Newcastle University in 2012 with a dissertation in Artificial Intelligence methods to solve combinatorial optimization problems in the field of Employee Scheduling. My interest in my current research started with a pilot project employing computer vision to monitor livestock (farm pigs). I have more recently been involved in developing a system to quantify performance in equestrian sports.
Project title: Computational behaviour analysis in livestock and its applications to disease prediction and prevention
Livestock are a key component in the Human food chain. Ensuring their wellbeing is therefore of critical importance. In today's food-aware society, maintaining the highest levels of animal welfare is a top priority of food producers.
Animals whose health and welfare is compromised display patterns of abnormal behaviour even though they might appear physically well. This project aims to develop computational methods to predict and detect these kinds of behaviours, initially focused on pigs.
Through applying machine learning and computer vision techniques, I hope that my project will lead to a technology that is able to accurately indicate when farm animals may be unwell or may become unwell unless action is taken. By monitoring the current and past behaviours of animals, algorithms can be designed to learn patterns of activities that may indicate sickness and to register this earlier and less laboriously than a human could.


Where did I get my PIPs
PIPS Internship Organisation Name
AgLogica Holdings, Inc.
Location
Atlanta, GA, USA
When deciding on your internship, what did you want to experience and what did you hope to gain from that experience?
I hoped to understand how working in an industrial environment differed from that of academia. I wanted to work in a team setting where the output of my research had a clear and actionable result.
Did you get the experience you were expecting and did you achieve the personal development you had hoped to make?
I did. I had a range of different experiences working in a professional environment, including presenting my work to members of a multinational corporation.
Did you discover anything about yourself or make any achievements that you were not expecting?
I discovered that I work very well in a small team.
Has the internship made you feel differently about potential career options and has it helped to put the skills from research into a broader context?
It had confirmed my desired career path outside of academia. It has given me career options that I would otherwise not have been exposed to.