Andria Pelava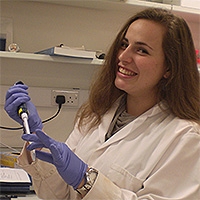 Institute for Cell and Molecular Biosciences (ICaMB) Medical School Newcastle University Catherine Cookson Building Framlington Place Newcastle-upon-Tyne NE2 4HH
Supervisor(s):
Dr Nick Watkins
I completed my BSc in Biological Sciences at the University of Leicester before moving to the Institute of Cell and Molecular Biosciences at Newcastle University in 2012 to start my integrated MRes/PhD programme.
I am interested in the functions of the pseudouridine synthase Dyskerin in human cell line, since mutations on this protein lead to the genetic disease Dyskeratosis Congenita. I am also interested in looking at the link between Dyskerin and cancer development. This has not been studied in humans before which is essential for finding causes and potential therapies for the disease.
Project title: The role of H/ACA snoRNPs in human ribosome biogenesis
Ribosomes are essential for protein synthesis. Pseudouridine (ψ) is an important ribosomal RNA modification catalysed by the H/ACA snoRNPs; RNA-protein complexes in which the protein Dyskerin is the catalytic subunit. Mutations in Dyskerin lead to Dyskeratosis Congenita, a disease with increased cancer susceptibility. The aim of this project is to investigate the functions of Dyskerin in human ribosome biogenesis since this has not been done before. I have already seen that Dyskerin is required for the accumulation of H/ACA snoRNPs and is important for human ribosome biogenesis. I have also seen that Dyskerin depletion results in p53 induction. I will be performing further experiments to identify the function of Dyskerin in human ribosome biogenesis.
Additional Activities
I have attended multiple conferences, such as the North East Postgraduate Conference, in order to learn what research is currently being done and to stay updated with the latest science releases.
Where did I get my PIPs
PIPS Internship Organisation Name
Karaiskakio Foundation
Location
Nicosia, Cyprus
When deciding on your internship, what did you want to experience and what did you hope to gain from that experience?
I wanted to experience working in industry, since all my experience up until now was in academia. Therefore, I wanted to gain more experience on how science works in industry and especially in a foundation that is focused on cancers. I wanted to gain more knowledge in techniques I have not used until now and most importantly, I wanted to gain experience in working in industry.
Did you get the experience you were expecting and did you achieve the personal development you had hoped to make?
Yes. I believe that this internship has benefited me in many ways. Firstly, I have learned a lot of experimental techniques that I have not used before, such as Flow Cytometry and Sanger Sequencing. Furthermore, I have experienced how things work in industry and especially in Cyprus that I have not worked in before. Finally, it was a chance for personal development both as a scientist and as a person.
Did you discover anything about yourself or make any achievements that you were not expecting?
After the internship, I am more focused on science and on my PhD project, which I did not expect since I was away for so long. However, I believe that it gave me a chance to distance myself from my project, which turned out to be a good thing since it gave me more motivation to succeed.
Has the internship made you feel differently about potential career options and has it helped to put the skills from research into a broader context?
Yes. I feel that I am now more aware on what jobs there are outside academia that I would be interested in for the future and I feel more confident in applying what I have learned during my academic training in another environment. I believe that I would not have been aware of many skills that I have developed if I had not done the internship since it gave me a chance to put everything in practice.
Additional comments
All about the internship, from searching and applying for it to going to another environment and working there, were extremely helpful for my future professional development.