Chris Thornton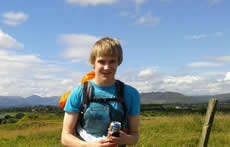 Newcastle University Newcastle-upon-Tyne NE1 7RU
Supervisor(s):
Dr Marcus Kaiser and Dr Mark Cunningham
I studied Computer Science at the University of St Andrews, graduating in 2013. During my studies I became interested in how computational modelling could be used to further understanding of neurological systems. I am now more specifically interested in modelling oscillations and brain connectivity.
Project title: Modelling large-scale oscillations in the human brain: Linking local circuits to global rhythms
Oscillations play an important role in normal and pathological brain function. Developmental disorders such as epilepsy and schizophrenia often lead to distinct changes in brain rhythms and brain activity. Within computational biology, realistic models of brain rhythms are normally focussed on small populations of neurons. My project seeks to link simulations of local brain tissue with oscillations at the global level based on structural connectivity between brain regions.
The goal is to develop computational models for oscillations to understand the link between the local and the global level.


Where did I get my PIPs
PIPS Internship Organisation Name
Alcyomics
Location
Newcastle
When deciding on your internship, what did you want to experience and what did you hope to gain from that experience?
I chose to intern at Alcyomics because I was interested in learning about how a small company can fit into the supply chain of the pharmaceutical industry, in particular one which aims to speed up drug discovery at the pre-clinical stage. Additionally, I was interested in the economics of a spin out company and how it functions operationally. Finally, I was also keen to get some hands on experience in a wet biology lab as I come from a computing science background and have relatively little experience in this area.
Did you get the experience you were expecting and did you achieve the personal development you had hoped to make?
On the commercial side I got to experience more than I had expected. Getting to sit in and participate in company meetings was interesting providing insight into what it takes to manage a company such as Alcyomics. Going to the BioNow Life Science and Healthcare Showcase Conference with Alcyomics also provided insight into the functioning of local SMEs in the field of life sciences and how funding is found from different sources for these enterprises as they grow. I was also lucky to have been able to attend the Cell Europe workshop on Innovation through Alcyomics. The funding and building of innovation in the life sciences was well presented here also. On the practical side I have learned how to use a pipette properly, how to extract cells from blood using lymphoprep, how to count cells and how to fill in COSHH forms, amongst other things. I have enjoyed this and will look forward to applying some of these skills to my PhD work.
Did you discover anything about yourself or make any achievements that you were not expecting?
I discovered that I was more interested in the administrative side of healthcare innovation and delivery than I thought I would be.
Has the internship made you feel differently about potential career options and has it helped to put the skills from research into a broader context?
It has made me more aware of other potential career paths and it has been interesting to talk to those who have ended up working for a profit company instead of academia.