Kieran Hand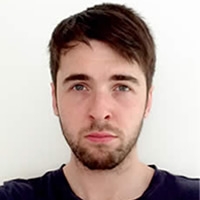 Institute of Integrative Biology Biosciences Building University of Liverpool Crown Street Liverpool L69 7ZB
Supervisor(s):

Dr Jillian Madine
After using a number of biophysical techniques to examine both the aggregation properties and lipid interactions of alpha synuclein (a protein implicated in the pathogenesis of Parkinson's disease) within my undergraduate study, I became very interested in the molecular self-assembly of proteins and their implications within degenerative diseases. Since obtaining my BSc (Hons) in Biology, I have been able to continue my research interests upon a PhD programme at the University of Liverpool. My current research interests include the characterisation of modulating factors (Post translational modification, glycosaminoglycans, divalent metal ions) that promote, or inhibit aggregation and subsequent formation of amyloid fibrils.
Project title: The effects of post-translational modification on the aggregation propensity of the homologous light-chain proteins: SMA, REC & LEN. Additional Activities
Protein folding and misfolding in relation to amyloidosis (a disorder characterised by the deposition of insoluble protein) has been studied extensively. With the implication of amyloidogenic proteins as the causative agents in neurodegenerative diseases such as Alzheimer's disease and Parkinson's disease, it has been of great biological interest to characterise the mechanisms of folding and the pathways that lead to amyloidosis and formation of amyloid fibrils in the attempt to define a putative target for drug discovery. Numerous biochemical and biophysical techniques have been used to characterise the abnormal folding, self-interaction and self-assembly of a once soluble polypeptide that leads it to become amyloidogenic. However, to this date, the exact mechanisms that lead to a protein adopting a toxic state are still yet to be fully elucidated.
In order to enhance our understanding of the most prevalent form of all systemic disease (Immunoglobulin Light chain (IgL) amyloidosis (AL)) this project seeks to explore the structural and dynamic properties of three homologous Light chains: the benign LEN and the amyloidogenic SMA, REC. As the precise mechanistic pathways of IgL amyloidosis is lightly documented by literature, a wide spectrum of biophysical and biochemical techniques will be used within the PhD project to elucidate the effects of metal ion binding, post-translational modification and colocalising factors on the aggregation of IgL. The results of the study could assist in defining a therapeutic target that could inhibit, or possibly reverse the effects of the IgL proteopathic cascade and prevent the development of amyloid related disease.
Additional Activities
• Training events in ccpNMR (Nuclear Magnetic Resonance assignment software)
• North East Postgraduate Conference 2013
Where did I get my PIPs
PIPS Internship Organisation Name
Elanco
Location
Liverpool
When deciding on your internship, what did you want to experience and what did you hope to gain from that experience?
When deciding on my internship I wanted to ensure it was in the scientific area. Although this is not a necessary requirement of the BBSRC, I have had many jobs previously and I thought it would be more beneficial to gain industrial lab experience. Narrowing this down further, I had in mind two main areas where I wished to concentrate my internship applications. The first was the process of protein production on an industrial scale. Secondly, I wished to become engaged with, or at least familiar with, each step of how a chemical/protein and nucleic acid–based drug starts life and how it ultimately ends up as a biopharmaceutical product that becomes commercially available.
Did you get the experience you were expecting and did you achieve the personal development you had hoped to make?
Throughout the placement I was given the opportunity to be as hands on as possible. As part of a motivated team, I was directly engaged in developing a purification process and protocol for a new biopharmaceutical product. I not only became familiar with laboratory practice in the large-scale production of biopharmaceuticals but I also learnt a wide array of chromatographic techniques that I have transferred to my PhD work.
Did you discover anything about yourself or make any achievements that you were not expecting?
As the working environment was very team based and all ideas and input was encouraged, I found myself applying knowledge of protein chemistry into many group meetings and new scenarios which was well received. I also realised how excellent team synergy and communication within the TSMS group was one of the key areas to why the team was so efficient.
Has the internship made you feel differently about potential career options and has it helped to put the skills from research into a broader context?
Long term, I now wish to pursue a career in industry rather than in an academic setting.