Natasha Curley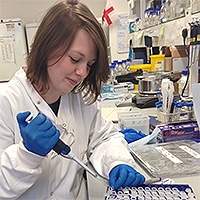 Institute of Genetic Medicine Newcastle University International Centre for Life Central Parkway Newcastle-upon-Tyne NE1 3BZ
Supervisor(s):
Professor Deborah Henderson and Dr Bill Chaudhry
In 2012, I graduated with an undergraduate Master's degree in Biochemistry from the University of Bath. During my Masters, I undertook several research placements including one within Richard Gilberston's lab at St Jude Children's Research Hospital in Memphis, Tennessee. It was during this project, investigating rare brain tumours, that I realised I had a deep fascination for developmental biology, especially understanding how errors in development can lead to devastating diseases.
I have now turned my attention to the heart and am extremely interested in understanding how our hearts develop and what occurrences lead to diseases that we are desperately trying to cure today.
Project title: The role of cell lineage in aortic wall diseases
Starting in 2013, my PhD is investigating the development of the adventitia of the great arteries. I will be asking whether the particular embryonic origins of the cells that make up the great arteries predispose to specific cardiovascular diseases and can also be involved in repairing damaged or diseased arteries.
Additional activities
I took part in the North East Postgraduate Conference in October 2011 and regularly take part in BBSRC DTP activities and events.
Where did I get my PIPs
PIPS Internship Organisation Name
Bio-Imaging unit
Location
Newcastle University
When deciding on your internship, what did you want to experience and what did you hope to gain from that experience?
I hoped to gain more understanding of the microscopes and also to understand how a commercial unit can work within a University.
Did you get the experience you were expecting and did you achieve the personal development you had hoped to make?
I developed the skills relating to microscope usage, however while I understood the basics I hoped to gain more of an understanding of how the unit works.
Did you discover anything about yourself or make any achievements that you were not expecting?
I discovered that I like teaching techniques and enjoyed the role as you are able to be a part of a lot of peoples projects across a broad range of fields.
Has the internship made you feel differently about potential career options and has it helped to put the skills from research into a broader context?
It has shown me how skills learnt during my PhD can be used in other careers. It has not made me feel different about potential career options.
Additional Comments
I decided to spilt my internship into two sections, this one being 5 weeks long. I was hoping to use this internship to help me decide what sector I would like the next internship to be.