Rhys Williams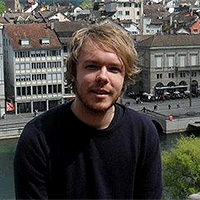 Institute of Integrative Biology Biosciences Building University of Liverpool Crown Street Liverpool L69 7ZB
Supervisor(s):
Dr Olga Mayans and Dr Daniel Rigden
I graduated with a BSc (Hons) in Biochemistry from Cardiff University in 2011. Following this, I studied for an MRes at the University of York and carried out a research placement at the University of Zürich. I am currently undertaking a PhD at the University of Liverpool in the Department of Structural and Chemical Biology.
My research interest is in giant sarcomeric proteins and the roles they play in the structure, function and elasticity of muscle.
Project title: Molecular and Structural analysis of the mechanosensory signaling pathways of muscle
Muscle development, regulation and function rely on giant proteins of the titin-like family. Spanning the sarcomere, titin-like proteins have a characteristic modular architecture consisting of a large number of consecutive domains separated by linker sequences. An important feature of titin-like proteins is the presence of one or more conserved kinase domains, thought to be mechanosensitive regulators of signalling, turnover and atrophy in muscle tissue.
My project focuses on establishing a mechanism for the mechanosensory properties of titin-like kinases using biophysical and structural biology techniques in order to further understand their physiological role.