Colette Whitfield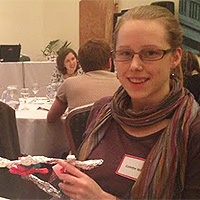 Supervisor(s):
Dr A Pike, Dr E Tuite and Professor B Connolly
I graduated from Newcastle University in 2012 with 1st Class Honours in BSc Chemistry (with a year in industry) and began the 4-year integrated MRes/PhD degree in September 2012. I am interested in nanotechnology devices and how we can bring together biology, chemistry and engineering to develop useful tools for industrial or medical applications.
Project title: Development of DNA extension methods for nano-scale applications
The DNA slippage reaction is of high interest to many research groups as it offers a potential to extend variable sequences of DNA. The slippage reaction is a random process where one strand from a DNA duplex would 'slip' or shift, forming a loop, which is then extended with DNA polymerase. In nature, the slippage reaction is undesirable as it causes mutations, however, this elongation process can be used to synthesise long uniform strands of DNA. One application of this is to produce long modified DNA 'wires' for nanotechnology applications. Modifications to DNA can allow chelation of metals to produce conducting nanowires.
As the computing capacity of devices is increasing and the size of electrical gadgets are decreasing, nano-scale mechanisms are required to allow further progress if this trend is to continue. DNA conducting wires have the capability of tolerating this development. However, the challenge of manipulating these wires is yet to be solved.
During my MRes project, we found that slippage was unable to produce long enough DNA for this application, therefore, heat-cool cycles are now used to force mis-alignment of the double strands. An Archael Pyrococcus Furiosus DNA polymerase B variant, Z3, is used to extend the mis-aligned duplex. Z3 has had the exonuclease domain removed and mutations in the finger region to increase flexibility, making it error prone and able to incorporate modified nucleotides.
To use this elongated DNA for a conducting nano-scale application, a development in the method to increase extension and to control the product lengths is required.
Where did I get my PIPs
PIPS Internship Organisation Name
Research Centre, Munich
Location
Munich, Germany
When deciding on your internship, what did you want to experience and what did you hope to gain from that experience?
I wanted to do an internship in science as that is the career path I would like to follow but I wanted to experience working in a different lab in a different field to broaden my knowledge.
Did you get the experience you were expecting and did you achieve the personal development you had hoped to make?
Yes, I think I did, especially because I also worked in a different country, I think it enhanced what I was hoping for.
Did you discover anything about yourself or make any achievements that you were not expecting?
I discovered I could work and live in another country but I also realised I found this quite a challenge.
Has the internship made you feel differently about potential career options and has it helped to put the skills from research into a broader context?
A little, yes. It has made me consider a career in research as I was able to learn a new area and discuss science with more people. I struggled living abroad which was good to find out now. Also, I realised I had already learnt a lot of techniques which were transferable to the internship.
Additional comments
It was a very worthwhile experience.