Pollyanna Moreland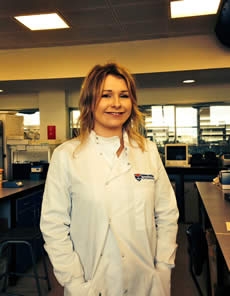 School of Biology Devonshire Building Newcastle University Newcastle upon Tyne NE1 7RU
Supervisor(s):
Dr Jem Stach and Dr Michael Hall
I completed my BSc in Biology at Newcastle University in 2013, before starting my integrated MRes/PhD programme, also in the School of Biology.
One of my main interests and one which my third year dissertation was based, is novel antimicrobial drug discovery and development. My undergraduate degree sparked my interest in microbiology and investigating the compounds which microorganisms produce, which is the foundation of my PhD
Project title: Exploring novel anti-cancer natural products, a synthetic biology/chemistry approach
My project will look into the biosynthesis of the compounds: proximicins. Proximicins are natural products derived from the genus Verrucosispora that have novel antitumor bioactivity and so could have potential therapeutic value. The structures of proximicins are somewhat unique and it is suggested that their synthesis involve a number of novel biosynthetic enzymes including the synthesis of a novel 4-aminofuran-2-carboxylic acid. My project will elucidate the biosynthesis of the proximicins and apply a synthetic approaches, both biological and chemical, in order to engineer production. To do this, my project will involve genetic manipulation (gene cloning, deletion, and mutagenesis) of bacteria and chemical synthesis techniques for in vivo and in vitro production of both natural and modified proximicins. Further synthetic biology approaches will be employed for the heterologous production of proximicins
Where did I get my PIPs
PIPS Internship Organisation Name
University of Kentucky
Location
Lexington, KY, US
When deciding on your internship, what did you want to experience and what did you hope to gain from that experience?
My main aim was to experience a different lab environment. In my lab, I work in a very solitary way, I wanted to experience a large lab group as well as learning new techniques.
Did you get the experience you were expecting and did you achieve the personal development you had hoped to make?
Yes. I enjoyed working as part of a group and developed skills associated with working as a group as opposed to solitarily.
Did you discover anything about yourself or make any achievements that you were not expecting?
Yes, I enjoy the science I do especially when I am surrounded by people who are passionate about it.
Has the internship made you feel differently about potential career options and has it helped to put the skills from research into a broader context?
Yes, it has solidified the idea that I don't want to work in academia unless it is as part of a large group.