Amy Ponsford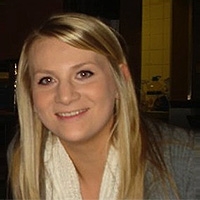 Physiological Laboratories 5th Floor Nuffield Building Crown Street University of Liverpool Liverpool L69 3BX
Supervisor(s):
Professor Chris Sanderson and Dr Neil Kitteringham
My main research interests are protein-protein interaction studies and generating interaction network maps. I enjoy using this to try and understand a proteins function and its potential roles in alternative signalling pathways or disease.
Project title: A Systems Level Analysis of the Human NFE2L2 (Nrf2) Response Network
Nrf2 is a transcription factor that drives expression of many cytoprotective genes. As such, the Nrf2 pathway plays a vital role in both health and aging. Defects in Nrf2 activity leads to impaired mitochondrial function and reduced protection against free radical damage. Over time these defects contribute to common age-related conditions including cardiovascular disease, neurodegeneration and chronic inflammation. It is therefore important to develop a better understanding of how Nrf2 signalling networks may be regulated.
My project aims to generate a verified protein-protein interaction network for Nrf2, providing insight into the molecular mechanisms of the interactions (for example if they are direct or indirect, competitive or facilitated) and determining the domains of Nrf2 that are responsible for particular protein interactions. We also hope to identify cross-talk between the Nrf2 pathway and other signalling cascades and the potential effects of disrupting this pathway. So far I have generated a comprehensive predicted Nrf2 protein interaction network, which contains both known and predicted Nrf2 interactors. During this project I will be testing and verifying these interactions initially using the high through-put technique Yeast two-Hybrid. Positive interactions observed here will then be verified in mammalian cells using split complementation assays and live cell imaging techniques.
Additional Activities
For the past 2 years I have taught at an advanced protein-protein interaction course at the Wellcome Trust Sanger Institute in Hinxton, Cambridgeshire with my supervisor Chris Sanderson. It is a week-long course where we teach Yeast two-Hybrid to PhD and Post-doctoral students from all over the world to enable them to carry out these experiments in their own laboratories.
Where did I get my PIPs
PIPS Internship Organisation Name
Redx Oncology
Location
Liverpool
When deciding on your internship, what did you want to experience and what did you hope to gain from that experience?
Experience of working in industry.