Anthony Moore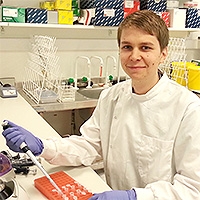 Institute for Cell and Molecular Biosciences (ICaMB) M2025F Medical School Newcastle University Catherine Cookson Building Framlington Place Newcastle-upon-Tyne NE2 4HH
Supervisor(s):
Professor John Hesketh and Dr Judith Hall
I graduated with a BSc (Hons) in Biomedical Sciences from the University of Manchester in 2012. I then moved back to the North East where I completed my MRes in Biosciences at Newcastle University. I then started a PhD in the Institute for Cell and Molecular Biosciences at Newcastle University in 2013.
I am interested in elucidating how certain micronutrients (particularly selenium) can alter the interactions between the gut epithelium and the surrounding microbiota and subsequently how that can alter the susceptibility to disease. In particular, I am focusing on how nutrients in the gut can modulate the inflammatory responses of gut epithelial cells to microbial challenge.
Project title: Nutrient modulation of gut inflammatory responses to microbial challenge
Chronic disorders of the gastrointestinal tract such as inflammatory bowel disorders and colorectal cancer are associated with a dysregulated inflammatory response to microbial challenges. Diet has an important role in maintaining health and inflammatory homeostasis in the gut, however, the precise food components involved, their relationships with the gut microbiome and the immune signalling pathways associated with inflammation are not known.
In this project I will address this problem by investigating how micronutrients and phytochemicals influence cell inflammatory mechanisms, particularly the responses of the gut colonic epithelial cells to microbial challenges. Key components of the innate responses of the host gut epithelium include the Toll-like Receptors that sense inflammatory inducers (i.e. microbes) and activate distinct inflammatory pathways through NF-κB and Nrf-2 signalling pathways as well as the unfolded protein response. These pathways regulate effectors such as the inflammatory cytokines, TNF and interleukins and the cationic anti-microbial peptides, defensins.
There is evidence that these pathways are inter-linked biochemically, therefore, to understand the responses and their modulation by nutrition it is important to take an integrated, "systems" approach. Importantly, dietary components such as phytochemicals (e.g. quercetin) and selenium have been found to affect NF-κB and Nrf2 signalling pathways in gastrointestinal cells; in addition both treatments also modulate expression of certain miRNAs. Our hypothesis is that a combination of the micronutrient selenium and phytochemicals such as quercetins influence the response of colonic epithelial cells to microbial challenges by modulating inflammatory signalling pathways through effects on the inter-linked pathways that include miRNA, unfolded protein response, Nrf2 and NF-κB signalling pathways.
Where did I get my PIPs
PIPS Internship Organisation Name
AgResearch
Location
Palmerston North, New Zealand
When deciding on your internship, what did you want to experience and what did you hope to gain from that experience?
I wanted to travel, have fun and, because I had to, find out what commercial scientific research entails.
Did you get the experience you were expecting and did you achieve the personal development you had hoped to make?
I very much got the experience I was expecting - and more! I felt like I got an honest and real look into what commercial scientific research entails. As it is primarily and agricultural facility, the grounds were filled with various exotics plants and trees and was absolutely stunning to work on. The atmosphere was a lot more relaxed and fun than I had imagined, yet there wasn't much escape from the intense bureaucracy and record keeping in the commercial sector. After many health and safety forms, I was finally allowed to step foot into the labs after about 3 weeks. Here I was able to use a unique cell culture chamber which allowed culture of a differentiated human colorectal cancer cell line in an environment which exactly mimicked the gaseous environment of the basolateral and apical membranes in vivo which was extremely relevant to my own research. The lab I was working in was studying the effect of dietary miRNAs found in both human and bovine breast milk on gene expression in human intestinal cells. As part of my experience there, I helped extract miRNA from breast milk and helped perform pathway analysis on the differentially expressed genes due to miRNA treatments. It was quite an eye-opening experience given I didn't really know much about the commercial sector. I also did a massive tour of the South Island for about 2 weeks which was awesome- it's genuinely like the lake district on steroids. It's one of the most beautiful places on earth.
Has the internship made you feel differently about potential career options and has it helped to put the skills from research into a broader context?
It has. It's made the commercial sector seem a lot more fun to work in than I previously thought it would.