Emma Craddock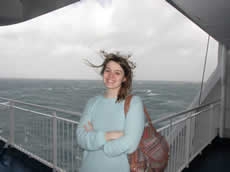 Institute of Neuroscience Henry Wellcome Building The Medical School Framlington Place Newcastle University Newcastle-upon-Tyne NE2 4HH
Supervisor(s):
Dr Andy Trevelyan and Professor Bob Lightowlers
I graduated from the University of Liverpool with first class BSc (Hons) degree in Anatomy and Human Biology and I am now undertaking a 4-year MRes/PhD course at Newcastle University.
My research investigates how mitochondrial dysfunction affects the neuronal calcium transient. Calcium homeostasis is important in neuronal cells as it mediates multiple neuronal functions such as synaptic transmission and also plays a role in cell death. Increasing the knowledge of this process has wide ranging implications for multiple neurological and neurodegenerative disorders such as epilepsy and Parkinson's disease.
Project title: How mitochondrial dysfunction affects calcium homeostasis in neurons
My project will study the two key regulators of neuronal function, these being calcium and mitochondria. The work builds upon previous studies showing that there was progressive change of levels of calcium ions in neurons carrying mitochondrial mutations leading to cellular fatigue. I will examine cybrid stem cells, which have the same nuclear DNA but different mitochondrial DNA. Using these cells will enable me to study how mutation in mitochondrial DNA affects these cells ability to differentiate into neurons. This will allow me to assess the impact of specific mitochondrial DNA mutations on how calcium is regulated in neurons. I will also investigate synaptic function in these cells, using both dissociated neuronal cultures and cybrid stem cells explanted onto organotypic cultures allowing for the cells to be studied in 3D. Mitochondrial dysfunction is well known to be associated with certain neurological conditions, although the disease mechanisms remain obscure. My project will provide insight into how mitochondrial dysfunction damages neuronal function and in turn leads onto these different neurological conditions.
Additional Activities
I am a STEM (science, technology, engineering and mathematics) ambassador which involves taking part in extra-curricular events with school children to increase their interest in science.