Lisa Hindmarsh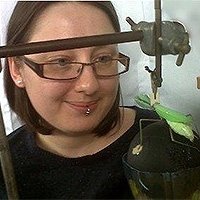 lisa.hindmarsh@newcastle.ac.uk
Institute of Neuroscience Henry Wellcome Building The Medical School Framlington Place Newcastle University Newcastle-upon-Tyne NE2 4HH
Supervisor(s):
Dr Jenny Read, Dr Claire Rind and Dr Candy Rowe
My research interests are focused around insect behaviour and physiology, in particular insect sensory processing and the mechanisms involved in driving behaviour.
My past undergraduate research investigated the effects of pesticides on pollinator behaviour and memory, specifically the role of γ Aminobutyric acid (GABA) in motor function of the honeybee (Apis melifera). Pollinators are currently in decline and it is important for us to understand how the chemicals we use in our agriculture affect pollinator behaviour.
During my MRes I was investigating visual motion detection in the praying mantis. In particular how they extract information at different spatial scales.
Project title: Evolution in 3D
My project (funded by BBSRC, 2012-2016) is supervised by Dr Claire Rind (Reader in Neurobiology), Dr Candy Rowe (Reader in Animal Behaviour and Cognition) and Dr Jenny Read (Reader in Vision Science).
This interdisciplinary project is to investigate the mechanisms behind praying mantis visual motion detection using behavioural and electrophysiological studies. Mantids are outstanding insect predators and are the only non-vertebrates known to possess 3D vision. I aim to investigate how the praying mantis extracts visual information at different spatial scales and whether prey have evolved various defence strategies to counteract this ability, for example, by being iridescent or camouflaged. We are interested in comparing insect and human visual systems. Similarities would indicate that these two very different systems have converged on the same solution, whereas differences may help inspire more efficient machine algorithms.
Additional Activities
I have been involved with several outreach programs lead by Dr Geraldine Wright engaging the public in pollinator conservation and research. These activities were aimed at increasing awareness of pollinator contributions to farming, pollinator decline and engaging children in insect identification.
I took part in meet the scientist at the Centre for Life. This event demonstrated human colour perception and engaged the public in some of the vision science we do at the Institute of Neuroscience.
I organised and ran a workshop for the schools program as part of the British Science Festival. This workshop was designed to teach children the basic concepts behind evolution using camouflage and mimicry as examples.
Where did I get my PIPs
PIPS Internship Organisation Name
British Science Festival
Location
Newcastle-upon-Tyne
When deciding on your internship, what did you want to experience and what did you hope to gain from that experience?
I wanted experience in applying for funding, budgeting, teaching and organising events to demonstrate resourcefulness.
Did you get the experience you were expecting and did you achieve the personal development you had hoped to make?
Yes, I feel like I gained more skills than I anticipated. The experience helped me make important decisions on my future career choices.
Did you discover anything about yourself or make any achievements that you were not expecting?
I realised I am capable of more than I thought and can cope under pressure. I enjoyed organisation, working as part of a team and supervising. I really enjoyed the outreach and explaining science in an understandable way, through discussion and interactive games to non-scientists and children.
Has the internship made you feel differently about potential career options and has it helped to put the skills from research into a broader context?
I have eliminated other career options through this process. Even though I enjoyed working with the children I could not do it on a regular basis. I appreciate the work teachers do a whole lot more now I have seen the in-depth work they put in. I enjoyed the event organisation and administrative process. This is something I would consider as part of my future career. After the internship I felt stronger in my wish to remain in research because this is what I enjoy the most. I feel the administration, financial and training aspects made me think about how these skills are implemented in a researchers career. They are needed in applying for funding, planning a project, training students etc. In developing these skills I feel prepared and confident in progressing as a researcher.