Piyush Tushar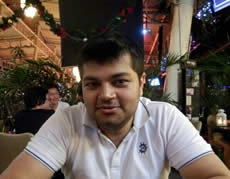 Institute of Translational Medicine Department of Gastroenterology The Henry Wellcome Laboratory Nuffield Building Crown Street Liverpool United Kingdom L69 3GE
Supervisor(s):
Dr Lu-Gang Yu and Professor Jonathan Rhodes
In 2013, I completed an MRes with distinction in Translational Medicine from the University of Liverpool. During my MRes, I undertook projects aimed at understanding the role of galectins, particularly galectin-3, in tumor metastasis. Galectins are a family of proteins which is present in human cells as well as in the blood circulation. However, the level of galectin-3 in the blood circulation increases several folds in cancer patients. The projects in my MRes explored the interaction of galectin-3 with tumour cells and showed that increased circulating level of galectin-3 helps in adhesion of tumour cells to the blood vessels, helps in the migration of tumour cells through the blood vessel and helps the migrating tumour cells to develop into secondary tumour by increasing the formation of new blood vessel.
Later part of my Mres was conducted in collaboration with a chemical biology group in NIH in Frederick, USA to search for potential galectin-3 binding inhibitors for the development of therapeutic drugs.
Project title: Investigation of MUC1 cytoplamsic domain in anoikis activation of epithelial cells
Anoikis is a Greek word for 'homelessness'. On a cellular level when a cell loses contact with its neighbour cells, it has internal mechanism within itself which triggers programmed cell death. Cell death by loss of contact with its neighbouring cell or by its immediate surrounding is termed anoikis. There are many conditions such as atherosclerosis, cardiomyopathy and diabetic retinopathy and indeed cancer where anoikis is the underlying mechanism resulting in poor prognosis.
Our current understanding of the anoikis is very limited.
My PhD project studies the role of a large molecular weight cell surface protein (MUC1) in anoikis of epithelial cells. Recent research in our laboratory has demonstrated that the expression of MUC1 induces resistance of epithelial cells to anoikis. The information obtained from this study will increase our understanding of the molecular modulation of a fundamental cellular process that underpins human health including in degenerative process such as atherosclerosis, cardiomyopathy and diabetic retinopathy.


Where did I get my PIPs
PIPS Internship Organisation Name
Shefton CVS
Location
Shefton Council
When deciding on your internship, what did you want to experience and what did you hope to gain from that experience?
I wanted to be involved in a policy setting and I wanted to see how all aspect of mental healthcare is interlinked and implemented.
Did you discover anything about yourself or make any achievements that you were not expecting?
I considered a potential career in mental health and this internship has helped me explore that option further.
Has the internship made you feel differently about potential career options and has it helped to put the skills from research into a broader context?
Yes following the internship, I do have a broader outlook on options post-PhD.