Alison Howell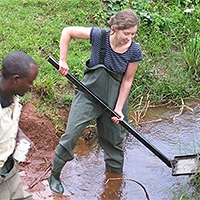 Veterinary Parasitology Liverpool Science Park IC2 Building 146 Brownlow Hill Liverpool L3 5RF
PIPS Internship Organisation Name
Field Epidemiology Service, Public Health England
Location
Liverpool
When deciding on your internship, what did you want to experience and what did you hope to gain from that experience?
I wanted to see what working at FES entailed and whether it might be a suitable career option. I also wanted to learn about analysis methods.
Did you get the experience you were expecting and did you achieve the personal development you had hoped to make?
Yes- I was part of the team and got the most out of the experience.
Did you discover anything about yourself or make any achievements that you were not expecting?
I discovered that although the work is very interesting, I don't want a job that involves too much office work. I learned a lot about analysis and the use of computer programs that is directly useful for my PhD and gained from the expertise in FES that is lacking (or not accessible) in the University. I also received a lot of career advice from various people in different roles at FES.
Has the internship made you feel differently about potential career options and has it helped to put the skills from research into a broader context?
It has made me aware of a wide variety of future options within PHE which I was unaware of, also to think more carefully about the environment in which I want to work.
Additional comments
Overall it was very worthwhile and I enjoyed it.