Anthony Moore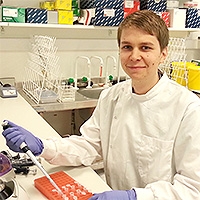 Institute for Cell and Molecular Biosciences (ICaMB) M2025F Medical School Newcastle University Catherine Cookson Building Framlington Place Newcastle-upon-Tyne NE2 4HH
PIPS Internship Organisation Name
AgResearch
Location
Palmerston North, New Zealand
When deciding on your internship, what did you want to experience and what did you hope to gain from that experience?
I wanted to travel, have fun and, because I had to, find out what commercial scientific research entails.
Did you get the experience you were expecting and did you achieve the personal development you had hoped to make?
I very much got the experience I was expecting - and more! I felt like I got an honest and real look into what commercial scientific research entails. As it is primarily and agricultural facility, the grounds were filled with various exotics plants and trees and was absolutely stunning to work on. The atmosphere was a lot more relaxed and fun than I had imagined, yet there wasn't much escape from the intense bureaucracy and record keeping in the commercial sector. After many health and safety forms, I was finally allowed to step foot into the labs after about 3 weeks. Here I was able to use a unique cell culture chamber which allowed culture of a differentiated human colorectal cancer cell line in an environment which exactly mimicked the gaseous environment of the basolateral and apical membranes in vivo which was extremely relevant to my own research. The lab I was working in was studying the effect of dietary miRNAs found in both human and bovine breast milk on gene expression in human intestinal cells. As part of my experience there, I helped extract miRNA from breast milk and helped perform pathway analysis on the differentially expressed genes due to miRNA treatments. It was quite an eye-opening experience given I didn't really know much about the commercial sector. I also did a massive tour of the South Island for about 2 weeks which was awesome- it's genuinely like the lake district on steroids. It's one of the most beautiful places on earth.
Has the internship made you feel differently about potential career options and has it helped to put the skills from research into a broader context?
It has. It's made the commercial sector seem a lot more fun to work in than I previously thought it would.