Colette Whitfield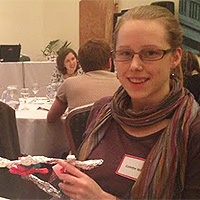 PIPS Internship Organisation Name
Research Centre, Munich
Location
Munich, Germany
When deciding on your internship, what did you want to experience and what did you hope to gain from that experience?
I wanted to do an internship in science as that is the career path I would like to follow but I wanted to experience working in a different lab in a different field to broaden my knowledge.
Did you get the experience you were expecting and did you achieve the personal development you had hoped to make?
Yes, I think I did, especially because I also worked in a different country, I think it enhanced what I was hoping for.
Did you discover anything about yourself or make any achievements that you were not expecting?
I discovered I could work and live in another country but I also realised I found this quite a challenge.
Has the internship made you feel differently about potential career options and has it helped to put the skills from research into a broader context?
A little, yes. It has made me consider a career in research as I was able to learn a new area and discuss science with more people. I struggled living abroad which was good to find out now. Also, I realised I had already learnt a lot of techniques which were transferable to the internship.
Additional comments
It was a very worthwhile experience.