Flint Stevenson-Jones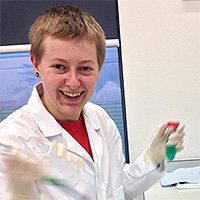 Centre for Bacterial Cell Biology Baddiley-Clark Building Richardson Road Newcastle University Newcastle-upon-Tyne NE2 4AX
PIPS Internship Organisation Name
Newcastle University
Location
Newcastle-upon-Tyne
When deciding on your internship, what did you want to experience and what did you hope to gain from that experience?
I wanted to experience something outside of academic research that still utilised the skills I had learnt as a PhD student and gain a knowledge of the alternative careers that are available.
Did you discover anything about yourself or make any achievements that you were not expecting?
I realised that I liked academic research, specifically the problem solving aspect and the non-routine nature of research.
Has the internship made you feel differently about potential career options and has it helped to put the skills from research into a broader context?
Although it enabled me to see how my research skills were relevant outside of academia, it made me realise that I would like to pursue a career within research.