Kieran Hand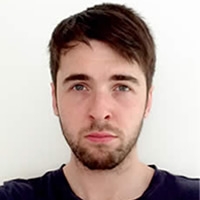 Institute of Integrative Biology Biosciences Building University of Liverpool Crown Street Liverpool L69 7ZB
PIPS Internship Organisation Name
Elanco
Location
Liverpool
When deciding on your internship, what did you want to experience and what did you hope to gain from that experience?
When deciding on my internship I wanted to ensure it was in the scientific area. Although this is not a necessary requirement of the BBSRC, I have had many jobs previously and I thought it would be more beneficial to gain industrial lab experience. Narrowing this down further, I had in mind two main areas where I wished to concentrate my internship applications. The first was the process of protein production on an industrial scale. Secondly, I wished to become engaged with, or at least familiar with, each step of how a chemical/protein and nucleic acid–based drug starts life and how it ultimately ends up as a biopharmaceutical product that becomes commercially available.
Did you get the experience you were expecting and did you achieve the personal development you had hoped to make?
Throughout the placement I was given the opportunity to be as hands on as possible. As part of a motivated team, I was directly engaged in developing a purification process and protocol for a new biopharmaceutical product. I not only became familiar with laboratory practice in the large-scale production of biopharmaceuticals but I also learnt a wide array of chromatographic techniques that I have transferred to my PhD work.
Did you discover anything about yourself or make any achievements that you were not expecting?
As the working environment was very team based and all ideas and input was encouraged, I found myself applying knowledge of protein chemistry into many group meetings and new scenarios which was well received. I also realised how excellent team synergy and communication within the TSMS group was one of the key areas to why the team was so efficient.
Has the internship made you feel differently about potential career options and has it helped to put the skills from research into a broader context?
Long term, I now wish to pursue a career in industry rather than in an academic setting.