Lisa Luu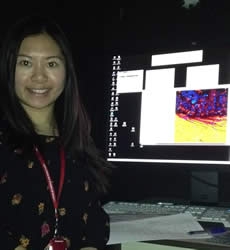 Infection Biology First Floor IC2 Building 146 Brownlow Hill Liverpool L3 5RF
PIPS Internship Organisation Name
NWC AHSN
Location
Daresbury Science Park
When deciding on your internship, what did you want to experience and what did you hope to gain from that experience?
My overall aim was to experience non-laboratory based scientific work. I was searching for either field work or work within a veterinary or human health organisation. I hoped to gain a better understand of the overview of how laboratory based work can be applied in real life healthcare situations. I also hoped to be exposed to a range of different careers within these areas that I was not previously aware of.
Did you get the experience you were expecting and did you achieve the personal development you had hoped to make?
Yes. Working with the NWC AHSN has allowed me to observe the real life development of products and prototypes developed in laboratories and local SMEs into tangible and commercialised products which can benefit the local population and beyond. Additionally, I now have a much better understanding of the funding landscape within the UK, inclusive of those relevant to myself as an academic as well as those relevant to private companies and health care organisations.
Has the internship made you feel differently about potential career options and has it helped to put the skills from research into a broader context?
It has shown me various careers outside of academia that I had previously not considered, however I've not changed the direction of where I aim to be in the next 10 years. The placement has certainly shown me how my skills can be applicable in a broader context, as is evident in the major outputs achieved upon the completion of the placement.