Alistair Poll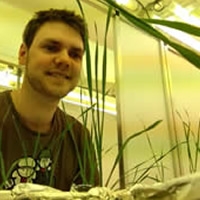 Faculty of Science, Agriculture and Engineering Devonshire Building Newcastle University Newcastle-upon-Tyne NE1 7RU
Supervisor(s):
Professor Angharad Gatehouse, Professor Carlo Leifert and Dr Roy Sanderson
I graduated from Durham in 2012 with a 2:1 BSc (Hons) in Natural Sciences (Biology, Chemistry and Maths). After that, I worked for several months in a lab in Durham researching the role of ubiquitination in plant defence response, before obtaining a place on the DTP programme at Newcastle.
Through my work in the lab and three summers spent working at a crop breeders in Norfolk, I have developed an interest in research to discover how we can improve food security and productivity by better understanding the genomic, transcriptomic and proteomic differences seen between crops with different tolerance levels for biotic and abiotic stress factors.
Project title: Functional Genomic Approaches to Elucidate Farming Practices on Differential Gene Expression in Wheat: Implications for Stress Tolerance
My project will focus on the differential gene expression seen when growing wheat (Triticum aestivum) under different fertilisation regimes and the link that this has to biotic and abiotic stress tolerance.
Initially I will be focussing on the effect Nitrogen availability has on the wheat transcriptome and the implications this has for resistance and response to Septoria tritici infection. As septoria leaf blotch is seen in every wheat growing region of the world and can result in up to 50% yield reduction, understanding of host-pathogen interactions is vital in establishing an effective method of combatting this fungal disease, especially where soil quality is poor.
I will also look at how organic farming practices might be used effectively without the reduction in yield which we currently see as a result of lower nutrient availability.